http://www.guardian.co.uk/sport/blog/2012/jun/15/50-olympic-stunning-moments-allan-wells
50 stunning Olympic moments No39: Allan Wells wins 100m gold in Moscow
Hard work in an unheated garage turned the Scottish sprinter into a champion when he defied the Olympic boycott request
Posted by
Rob Bagchi
guardian.co.uk
Friday 15 June 2012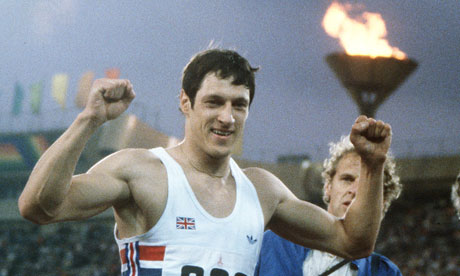 Great Britain's Allan Wells celebrates winning the 100m gold medal
at the Moscow Olympics in 1980.
At the beginning of the documentary chronicling his Olympic year, Allan Wells, the Commonwealth 200m champion, utters the resonant phrase that provided Mike Alexander's compelling film, No Easy Way, with its title. In the winter of 1979, and over footage of the sweat-drenched sprinter wringing out his singlet after a relentless workout involving briskly pummelling a speedball, a gruelling sequence of sit-ups and all manner of plyometric conditioning exercises in a bare brick and obviously chilly Edinburgh garage, Wells sums up his ethos: "There's no easy way. They say 'dedication' but I don't think that word absolutely covers it. I think it's madness, just about."
The intensity of his commitment as the film progresses is manifest. With his wife and coach, Margot, the Scottish 100m hurdles champion, constantly counselling, exhorting and sustaining his spirit, we see the sacrifices the couple had to make to
transform a 24-year-old long jumper and, in his words, "bum" 11sec 100m club sprinter into the Olympic champion in the Games blue-riband event in four years.
For those who mourn the death of the Corinthian values of amateur sport since athletics turned professional, the evidence of his autumn and spring training sprints through the puddles at Meadowbank stadium, the hopping drills past pram-pushers and bemused pedestrians in public parks, the frustration of trying to gauge progress at meets that continued to use antiquated handheld timing devices and the arctic nip in that garage illustrate the hardships endured by the unfunded athlete.
Having diligently invested so much time and effort to their quest, it is hardly surprising that Allan and Margot Wells gave Margaret Thatcher's request that Great Britain's athletes should boycott the Games such short shrift.
The buildup to the Moscow Olympics was overshadowed by the Soviet Union's invasion of Afghanistan on New Year's Day 1980. Jimmy Carter, the United States president facing a tough election year, announced on 5 January that athletes from his country would boycott the Games unless the USSR withdrew its troops by 20 February and, when the deadline passed without compliance, West Germany, Japan, China, Argentina and Canada also refused to send teams. The British prime minister, Margaret Thatcher, supported by more than 60 Conservative MPs who signed motions, expressed her belief that Britain should join its allies. But without any power to compel the British Olympic Association to comply she sought to employ public opinion as a weapon of persuasion to convince, perhaps coerce, individual athletes to refuse to compete.
The British Olympic Association, however, stood firm and Denis Howell, the former sports minister who retained that brief in opposition, galvanised the political campaign resisting Thatcher's objective.
In the Commons debate on the issue, Howell highlighted the hypocrisy of the government's position. Was it not, he asked, intolerable to demand that Sebastian Coe and other distinguished athletes should confront the military might of the USSR when no request had been made of ICI to postpone its opening of a new office in Moscow, the EEC continued trading with the Soviets and the UK government had already confirmed that export guarantees for British companies selling goods to Russia would not be suspended? As Tam Dalyell, the chairman of the Parliamentary Labour Party sports group, said: "The Commons sensed the humbug." The BOA and, more critically, the country did too.
That didn't stop the pressure, though. "We received maybe half a dozen letters from 10 Downing Street trying to put us off," Wells told my colleague Jamie Jackson. "The last one included a picture of a young girl sprawled dead on the ground with a doll lying six inches from the tips of her fingers. It was a very distasteful and underhand tactic. If at any time I had thought that by boycotting the Olympics one child was not going to be killed, then I wouldn't have hesitated in staying behind but in my heart I couldn't see how my presence in Moscow was going to cause more deaths. A Russian soldier isn't going to say, 'Oh, Allan Wells isn't coming. I'm not going to shoot somebody.'"
With his determination to seize his opportunity remaining resolute, Wells travelled to Moscow aiming for medals in both sprints. It had been a remarkable rise, based on a recognition in 1976 that improvement was the key to fulfilment. Raised in the south of Edinburgh on Fernieside Crescent he joined the athletics team in the Boys Brigade and enjoyed early success in the sprints and jumps. On leaving school at the age of 15 in 1967 to begin a seven-year apprenticeship as a marine engineer with Brown Brothers he also joined Edinburgh Southside Harriers whose track was a few yards from his front door. His boyhood friend and neighbour Chris Black, the hammer thrower, won bronze at the 1978 Commonwealth Games in Edmonton, prompting Wells, who won gold in the 200m and 4x100m relay and a silver in the 100m, to remark that one Edinburgh street had just won four medals.
Although he had won national titles for the long and triple jump, Wells's decision to focus on sprinting in 1976 quickly brought dividends. "I didn't know anything about sprinting then," he told the Guardian's John Roberts in 1979. "I didn't know about power and strength and to be honest I was afraid of sprinting because I didn't like the thought of being beaten by five men at once."
Power and strength training were the keys to his rapid progress and the weights in his garage-gym were deployed to build the physique for sprinting.
In the year of the Montreal Olympics he broke 11sec for the first time, recording 10.55sec without using starting blocks that he felt hindered his start and he came second in the 100m at the AAA Championships.
Although he practised with blocks he didn't use them in competition until forced to by an IAAF rule change on the eve of the Moscow Games.
In 1977 he won the 60m at the AAA indoors, the sprint double at the UK National Championships at Meadowbank in 1978, the year in which he brought back three medals from Canada and
broke Peter Radford's British 100m record, that had stood since 1960, twice in a week, lowering it to 10.15sec.
By trade a turner, his employer's offer of a job as a training officer with the firm on his return from the Commonwealth Games finally allowed him the opportunity to take time off for athletics without concern for the disruption it caused to the firm's production.
Having qualified for Moscow, he trained in France but awoke one morning at home in Edinburgh a couple of weeks before flying out with the British team with such a severely strained back that he felt it would rule him out of the Games. He was prescribed four manipulation treatments each day that left him unable to train.
In 2008, Wells told the Scotsman that the injury, far from hindering him, actually underpinned his victory. "When we got to Moscow, Margot and I decided that I'd do six starts and see how it went," he said. "The fourth and fifth were full-out as if I was competing and I asked Margot what she thought. She said they were the best she'd ever seen me do. The rest had done me a lot of good, I was really fresh and committed, and those starts gave me the psychological edge over everyone else, which was key because the Olympics is all about your mental aptitude. You're at your fastest when you're relaxed and flowing."
In his heat on 24 July Wells finished first in 10.35sec and was perturbed to find that his quarter-final later that day included three other heat winners, Pietro Mennea, Petar Petrov, Sören Schlegel, as well as the defending champion, Trinidad & Tobago's Hasely Crawford.
But instead of intimidating him, the field inspired him to win in a British record time of 10.11sec
. He slept badly that night, managing four hours with his mind "running like the Charge of the Light Brigade".
But he didn't show it in the following day's semi-final, run in cold and blustery conditions, which was also won in apparently nonchalant style. "I've got my mind fixed," he told an interviewer and he certainly appeared relaxed, spending the hours before the final resting and reading. "He's got two books with him," said his wife. "Forty Years of Murder and the Nuremberg Trials."
His main rival for gold, Cuba's Silvio Leonard, had a personal best of 9.98sec, then the second-fastest time in history. "I watched him and a team-mate in the warm-up and saw Leonard was a yard quicker in the first 30 yards," Wells said. "So I knew I had to get a yard up on him during the race. I remember going to the toilet during the warm-up and it reminded me of the one at Heriot's Rugby Club because it was all wood. I thought I was back in Edinburgh!"
For the only time in Olympic history, as far as the crowd in the Central Lenin Stadium was concerned, the men's 100m final was something of a sideshow as the home spectators focused on the triple jump where the USSR's Viktor Saneyev, the gold medal winner in Mexico, Munich and Montreal, was trying for a fourth. He lost out to his compatriot Jaak Uudmae, but he did manage to steal the limelight as the sprinters warmed up.
There was still a random draw for the final back then and Wells set off in lane eight with Leonard at the opposite side of the track in lane one. After a false start, the athletes took their marks for the gun a second time in the swirling, biting wind.
"My brain was saying, 'Drive, drive with the legs and arms,'" Wells recalled. He got off to a mediocre start and in pure racing terms the athletes in the lanes closest to him and in his eyeline were no help at all and quickly fell away. The Scot's tremendous power took him level with Leonard and they stayed that way from the 50m mark. Five metres out Wells lunged for the line. "I took a glance across and saw that Leonard was right there. I knew if I was going to win I would have to dip as if my life depended on it and that's what I did."
Margot was with the ITV team and her screams as her husband and Leonard crossed the line, seemingly simultaneously, were regularly replayed over the following days.
To the naked eye it looked like a dead heat but after a few moments when Wells shrugged his shoulders and stretched out his arms asking for confirmation, he turned to watch the replay on the big screen. What he saw convinced him that he had won but he suspected, given Cuba's diplomatic alliance with the Soviet Union, that intrigue might rob him of gold. Nonetheless he began to celebrate, leaping and pirouetting in the air before setting off on a lap of honour even as officials told him to stop and wait for the photograph. Eventually, though both men were recorded at 10.25sec, the photo gave Wells gold. "He dipped a long way out," said Margot. "That's why he won."
Sadly, though, he dipped again in the 200m final, it was good enough only for second place, 0.02sec behind Italy's Mennea, who admitted in retirement that he had used human growth hormone, not then outlawed, at the peak of his career. The other sadness for the Scot was that the Olympic flag was hoisted to commemorate his medals and the Olympic hymn played to celebrate his gold by a BOA decree designed to throw the prime minister a bone. "That was the one thing that was missing," he said. "Standing at the top of the rostrum, you expect to hear your national anthem."
By winning gold Wells became the first Briton since Harold Abrahams to win an Olympic 100m title and the first Scot to win on the track since Eric Liddell, both in 1924.
That is achievement enough but the elephant in the room with Wells will always be the absence of the Americans that cruelly denies him the recognition and acclaim he deserves. But it should not.
On his return to Edinburgh he was greeted by a crowd of 5,000 at the airport and was paraded along Princes Street to show off his medals. A few days later, while running through Trinity Park, a woman stopped him for his autograph. A passer-by shouted at him while he was signing. "What did he say?" she asked. "He was informing me I only won because the Americans weren't there. And do you know what? He doesn't know he's done me the biggest favour possible; he's just reminded me I've still got something to do. That Moscow isn't the end, it's the beginning."
Two weeks after the Games he got his chance to silence his critics. The 1980 US trials, an academic exercise given the boycott, still went ahead and the 100m was won by Stanley Floyd in 10.26sec. In Austin, in preparation for the NCAA Championships, the University of Houston student set the fastest time of the year with 10.07sec and by August 1980 he had been unbeaten for a year. Promoters were quick to sign him up to challenge Wells and he came to Europe along with Mel Lattany (who had run 10.09sec in 1978 and was third in the trials) to restore US bragging rights at an invitational in Koblenz.
Wells had considerably more to lose than either of them by agreeing to pick up the gauntlet. He was knackered after a long season, his back was still sore and defeat would allow the Americans to devalue Wells's Olympic title. "I was putting my neck in a noose," he said, "but I had to take on the Americans."
Wells qualified in eighth place for the final but managed to draw on his reserves of strength to win the race from Floyd by 0.02sec. Floyd flounced off after berating the timekeepers but Lattany went straight over to Wells. "For what it's worth, Allan," he said. "You're the Olympic champion and you would have been Olympic champion no matter who you ran against in Moscow."
If it was good enough for a judge as well-qualified and not exactly impartial as Lattany, it should be good enough for any of Wells's naysayers.
As Daley Thompson said of his own Moscow gold: "Everybody knows the dates and the Olympic champion is the best there at that time. It's no good being 8,000 miles away and saying: 'I would have won if I'd been there.'
Nobody remembers who wasn't there – only who won. He's the champion and that's all history will be concerned about."